Charlotte Pearson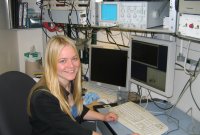 Tel: (520) 621-0807
Email: c.pearson@ltrr.arizona.edu
Charlotte has a background of interdisciplinary archaeological science research with training in Environment and Archaeology, Geoarchaeology and Archaeological science before focusing in on her current research areas of dendroarchaeology and dendrochemistry.
Prior to employment at LTRR she worked at the National UK ICP-MS facility and instigated and managed Archaeological, Environmental and Forensic Scientific Services for the school of Human and Environmental Sciences, University of reading, UK. From 2007-2012 she worked as Laboratory Manager and Research Associate at The Malcolm and Carolyn Wiener Laboratory for Aegean and Near Eastern Dendrochronology at Cornell University.
Her current focus is Mediterranean dendroarchaeoloy, with the key goal of furthering and strengthening the Aegean Oak Chronology (in particular) for the last 10,000 years. Through the continued improvement of this critical resource for high resolution dating in the historic and pre-historic Aegean she hopes to contribute to wider research on human and environmental interactions in the region and to further investigate the causalities of major turning points in human history. She is also interested in developing dendroarchaeological technique to include more complex metadata for heightened interdisciplinary use of dendro data for archaeologists and geoarchaeologists.
Other research interests include dendrochemical analysis of tree-ring sequences to investigate the timing of volcanic events, forest fires and anthropogenic pollution and the reconstruction of climate events from tree-ring isotopes, anatomy and carbon 14.
Current geoarchaeology projects include technique development for the application of Synchrotron Scanning X-Ray Fluorescence Microscopy (SXFM) for establishing provenance of pipestone artifacts from Iroquois sites in New York State and for provenance of inclusions in Roman roof tiles. She is also working with Geologists in Istanbul to develop dendro-dating of sedimentary horizons in an archaeological harbor.
She is developing a tier one TRAD course in Human and Environmental interaction which will examine evidence from the paleoenvironmental record (tree-rings in particular) for climatic and other environmental change and its impact on human societies at various points in human history around the globe.