John Olsen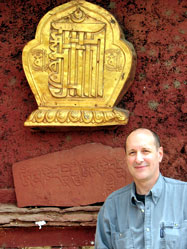 Tel. : 520-621-4321
Email: jwo@arizona.edu

Profile
Olsen is a former Head of the UA Department of Anthropology (1998-2008) and is now Executive Director of the Je Tsongkhapa Endowment for Central and Inner Asian Archaeology at the University of Arizona.
He is concurrently Co-Director of the Joint Mongolian-Russian-American Archaeological Expeditions and the Chinese Academy of Sciences' Zhoukoudian International Paleoanthropological Research Center in Beijing. Olsen is one of only a handful of foreign scholars to be awarded academic titles by the Mongolian Academy of Humanitarian Sciences (Academician, 1998) and the Mongolian Academy of Sciences (Doctoris Archaeologiae Honoris Causa, 2003).
Research Interests
Eastern Eurasian prehistory with temporal and geographical foci on the Paleolithic of arid and high-altitude Central and Inner Asia, particularly ethnic Mongolia, ethnic Tibet, and the Trans-Himalaya; Northeast Asia; Saharan North Africa, especially the Libyan Desert; paleoecology and the impact of environmental degradation on prehistoric societies in arid zones; cultural ecology and environmental archaeology with emphasis on zooarchaeology, especially animal husbandry among pastoral and nomadic societies; spatial analysis in archaeology, including applications of remote sensing and geographic information systems.
Dr. Olsen has conducted archaeological fieldwork in the United States (Florida & Arizona), Colombia, Belize, the Philippines, Egypt, the Sudan, the People's Republic of China (Xinjiang, Qinghai, Inner Mongolia, Hebei, Gansu, & Ningxia), Việt Nam, Kazakhstan, Uzbekistan, Türkmenistan, the Russian Federation (Siberia and the Altai Republic), Mongolia, and Tibet.